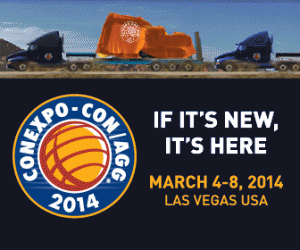 Humanistic Robotics, Inc (HRI) will exhibit at the 2014 CONEXPO-CON/AGG Conference at the Las Vegas Convention Center on March 4-8, 2014.
What: 2014 CONEXPO-CON/AGG
When: March 4-8, 2014
Where: Las Vegas Convention Center, Platinum Lot, Booth #9594
The CONEXPO-CON/AGG conference features 2,400 exhibitors showcasing new products and technologies from for every major construction industry including asphalt, aggregates, concrete, earthmoving, lifting, mining, utilities and more. HRI will display its Safe Remote Control System (SRCS). The SRCS is a wireless handheld controller that achieves much more capability than a traditional "belly box" controller in a lightweight and ergonomic package. In form, the handheld device looks like the controllers employed in typical video game systems, but houses much more. It's a rugged device, water, shock and dust resistant, containing a myriad of safety devices that are far more advanced than most control interfaces – even those that are much larger. It's a form factor very familiar to younger users, requiring nearly no training, and quickly learned by more experienced operators.
Humanistic Robotics, Inc., (HRI) is a robotics and technology innovator dedicated to making the world safer through engineering and design.