About Humanistic Robotics, Inc.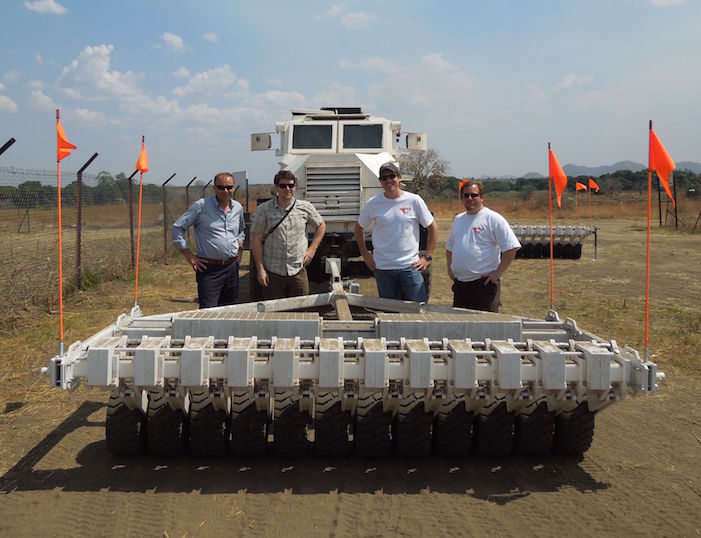 ---
Humanistic Robotics, Inc. is an American technology company dedicated to making the world safer through engineering and design. We specialize in wireless control solutions for mobile and industrial machinery, using our proprietary SafetySense® protocol to produce dependable controls for a variety of critical applications. We also have a core business in landmine and IED rollers and unmanned control systems, with clients including the US Army and the United Nations. Our technologies are reliable, durable, and designed to minimize the risks associated with some of the world's most dangerous work.
---
HRI is proud to be associated with these organizations:
Our Story
HRI was founded in 2004 with a mission to make the world a safer and healthier place for all human beings. That mission began in the legacy minefields that dot the earth from current and former conflicts. We used our research in the minefields of Afghanistan, Southeast Asia, and the Balkans to develop landmine and IED rollers that would protect people in some of the most demanding environments on earth. We now offer a suite of roller products that improve the safety, cost, speed and accuracy of explosive clearance in both military and civilian scenarios.
Since then, we've expanded our focus beyond the minefield to look at more ways for humans and machines to collaborate safely on difficult tasks. We identified a blind spot in the core technology of robotic progress and sought to ease the fears associated with automated system motion. This was the inspiration for SafetySense®– a proprietary wireless protocol designed specifically for mission-critical applications. We've packaged this technology into a family of wireless machine controls and custom wireless solutions, all with the goal of increasing productivity while keeping workers safe.
We see a future where all machines are becoming robots. We're committed to using our next generation technology to make that transition as responsibly as possible so that tomorrow will be safer for all of us.