Press Release: Mine Rollers – HRI Awarded Contract for Afghan Army
CHARLESTON, S.C., June 13, 2016 (GLOBE NEWSWIRE) — Critical Solutions International (CSI), in partnership with Humanistic Robotics Inc. (HRI), announced today the award of a contract to supply the Afghan National Army (ANA) with 464 mine rollers and associated operation and maintenance training.  The contract will be managed through U.S. Army Tank and Automotive Command (TACOM) Non-Standard Equipment Office.  These systems will bolster the ANA's mine and IED clearance capability and enhance freedom of maneuver across the battlefield.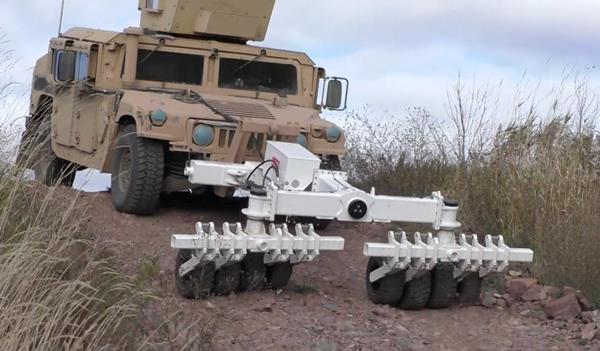 CSI partnered with HRI in 2014 in order to complement its existing suite of counter IED technologies, and offer U.S. and international customers a total route clearance package. The HRI roller is part of a suite of counter IED technologies provided by CSI. This includes the purpose-built Husky route clearance vehicle, which is the #1 route clearance vehicle in the world.
"Leading in accuracy, effectiveness and safety, the HRI roller is the most user-friendly and sustainable system on the market.  It has been proven in the field for commercial and peace-keeping missions in Africa and the Middle East," says CSI CEO, Patrick Callahan. "The standoff defeat capability provided by these rollers will enable our Afghan partners to make their roads safer for both the troops and civilians who travel them."
"HRI has been about building technology to make a safer world from day one," said Samuel Reeves, HRI's co-founder and CEO. "The HRI- CSI partnership reflects the growing need for a multi-faceted, multi-technology approach for defeating landmines and IEDs.  It allows us to combine our individual company capabilities to increase survivability and save lives.  Partnering with CSI, which for many years has been at the center of efforts to defeat the threat from IEDs with its Husky vehicle, is a perfect match for HRI."
About CSI and HRI
CSI is a leader in the development, systems integration, and support of blast-protected vehicles and counter IED payloads.  The centerpiece of CSI's capabilities is the Husky, which, in addition to the U.S. military, is fielded by militaries around the world including Australia, Canada, Kenya, Iraq, Spain, South Africa and Turkey.
HRI is a leader in rugged, low cost, low maintenance counter-mine roller systems for commercial, peacekeeping, and military applications. The ROUTE CLEARANCE ROLLER (RCR) is purpose-built to provide maximum capability with minimum sustainment for customers operating in high threat areas with limited logistical footprints.