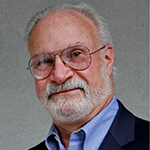 Peter Bressler founded and for over 40 years led Bresslergroup, a product design and development firm that is internationally recognized for award winning, innovative design solutions for a significant client list including Black & Decker, Polk Audio, Becton Dickinson, Energizer Wilkinson Sword and Siemens Corporation. Mr. Bressler has personally authored or co-authored over 75 design and utility patents and received over 50 National and International Design Awards. He has served on juries for multiple design awards programs and has been an invited presenter at events in Europe and Asia as well the United States.
As an Adjunct Associate Professor, Bressler has helped to develop the Integrated Product Design Program at the University of Pennsylvania. He has for several years served as a Professional Advisor to the Wharton Small Business Development Center.
Peter has been an active member and national officer of the Industrial Designers Society of America and has been awarded Fellowship in the society. He recently received the IDSA Personal Recognition Award, one of the organization's highest honors.
For the past 10 years Bressler has, on occasion, provided expert witness support in design patent, utility patent, trade dress and products liability cases. Recently, he served as expert witness for the plaintiff in the Apple v. Samsung design patent cases in the Northern District of California and the International Trade Commission.