Ian MacMillan
The Dhirubhai Ambani Professor of Innovation and Entrepreneurship
Director, Sol C. Snider Entrepreneurial Research Center, The Wharton School, University of Pennsylvania
---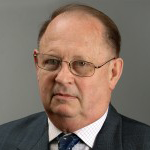 Ian C. MacMillan is the Co-Creator of the Wharton Entrepreneurial Center, and academic director of the Snider Entrepreneurial Research Center. He is also the Dhirubhai Ambani professor of Innovation and Entrepreneurship. MacMillan joined the center in June of 1986 after having served as the director of the center of entrepreneurial studies at NYU. He also has taught at Columbia University and Northwestern University. He received his BS from the University of Witwatersrand and his MBA and DBA from the University of South Africa.
Prior to joining the academic world, Macmillan was a chemical engineer and gained experience in gold and uranium mines, chemical and explosives factories, oil refineries, soap and food manufacturers, and the South African Atomic Energy Board. He also worked within the uranium production industry and has a wide range of knowledge on the different varieties of energy fuels and the ways they are produced. He has been the director of several companies in the import/export business in South Africa, Canada, Hong Kong and Japan. Macmillan has extensive consulting experience, having worked with such companies as DuPont, General Electric, GTE, IBM, CitiBank, Metropolitan life, Chubb and Son, American Re-Insurance, Matsushita (Japan) Olympus (Japan) L.G. Group (Korea) Texas Instruments, KPMG, Flour Daniel, Commercial Union General Insurance (UK) Air Products, Duratek, Hewlett Packard and Intel.
Macmillan has published numerous articles and books on organizational politics, new ventures and strategy formulation and execution. His articles have appeared in the Harvard Business Review, the Sloan Management Review, the Journal of Business Venturing and others. His latest books, The Enterpreneurial Mindset, and MarketBusters, were written with Rita McGrath.