The Future of Machine Control is here.
And it's Wireless
---
INTRODUCING SAFEGRIP

The New Wireless Enabling Pendant from HRI.
---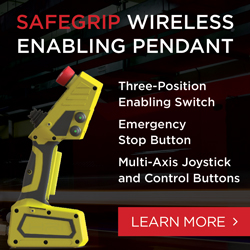 Developed with input from a leading auto manufacturer, SafeGrip brings mobile HMI to a new level with the freedom of wireless. Discover the power of certified safety in a fully reliable wireless control system.
---
Hello from Humanistic Robotics, Inc. —  the American technology company dedicated to making the world safer with leading-edge engineering and design. We're excited to let you know about the launch of our newest wireless machine control product.
SafeGrip is a wireless enabling pendant that features a three-position (or "dead man") switch, an emergency stop, joystick and programmable buttons. The device pairs easily with on-machine SafetySense Access Points, making it possible to operate and adjust equipment without plugging in or lugging a cable. Optional location awareness makes the worksite safer by restricting wireless control to a designated "safe zone" of operation.
The pendant is the latest in HRI's family of safety-focused wireless machine controls. Our product line also includes the Safe Remote Control System, Wireless E-Stop, and CAN-Sync Wireless CAN Bridge.

At HRI, our business has always been about using technology to make people safer. With SafeGrip, we're bringing the same level of forward-thinking safety we've used in mission-critical applications like landmine clearance into the world of machine operation.
All of our controls are built with patented SafetySense® technology for the safest, most dependable wireless link available. SafeGrip will also have TÜV certification of ISO 13849 Cat. 4 PLe (IEC 61508 SIL 3,) so you can trust that workers stay safe while business keeps moving.
Wireless HMI + Certified Safety = Boundless Potential