Samuel Reeves – Co-Founder and CEO
---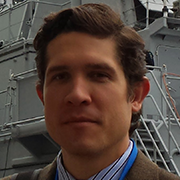 Samuel Reeves is Co-Founder and President of Humanistic Robotics, Inc.  Samuel's main responsibilities at HRI include understanding customer requirements and the completion of customer deliverables, the ongoing maintenance of the HRI's human capital and developing customer relationships and partnerships.
Samuel got his start in the landmine clearance field as a researcher for the Geneva International Centre for Humanitarian Demining, a multilateral think-tank that is a leading innovator on the global landmine issue.  Previously, Samuel has helped to build and lead the Wharton Small Business Development Center (SBDC) of the University of Pennsylvania, consulting organization funded by the Federal Government, Commonwealth of PA, and the University that assists over 600 businesses each year on matters of critical strategic, operational and financial matters. Samuel has also held positions at financial firms Apex Capital Corp and Texas Pacific Group (now TPG Capital).
Samuel Reeves earned a B.S. in Economics with concentrations in Finance and Management from the Wharton School of the University of Pennsylvania.
Contact Samuel at samuel@humanisticrobotics.com